Oyster Meta Resistome Libraries Provide Interesting Reading For SPARE-SEA Partners
08 April 2022
About the Project
The Project SPARE-SEA (Environmental Spread and Persistence of Antibiotic REsistance in aquatic Systems Exposed to oyster Aquaculture) is a collaborative project that includes the Alfred Wegner Institute (AWI) in Germany, the French Institute for Research and Exploration of the Sea (IFREMER), the National Research Council of Italy (CNR), the University of Genoa, Italy (UNIGE), and from Spain, the Institute for Research and Technology for Agrifoods (IRTA). The project focuses on the health risks associated with the continued spread of antibiotic resistance (AR). Aquatic environments are somewhat under-represented in such past studies. The project is structured around four work packages aimed at understanding the diversity of AR phenotypes and the flow of antibiotic resistance genes (ARGs) through the food web associated with oyster culture sites in Europe. Among the project study sites there includes a latitudinal gradient looking at oyster culture areas from Germany, France, and Spain, while also examining the effects of an anthropogenic gradient from sites that are more (Ebro Delta, Spain) or less (Sylt, Germany) affected by human input.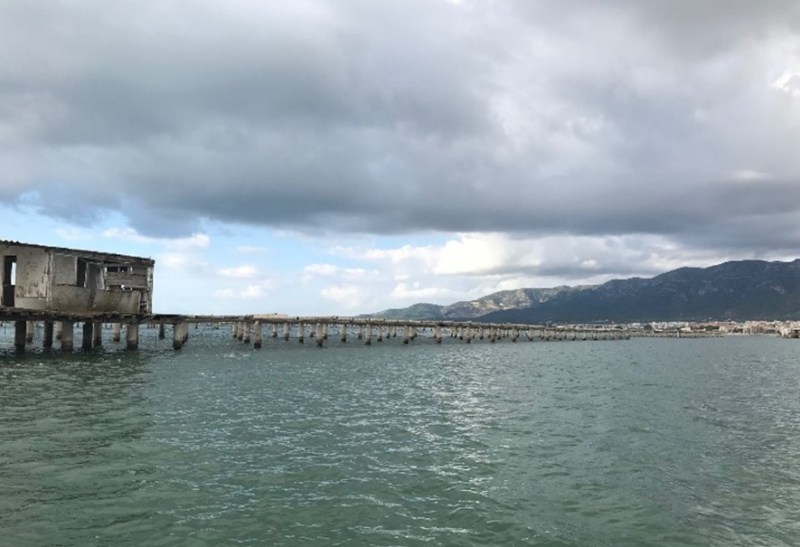 Oyster rafts in Alfacs Bay in the Ebro Delta, Spain.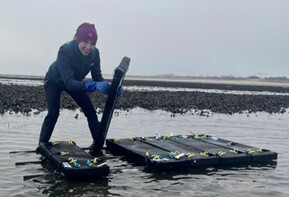 Postdoc C. Broquard tending oysters for SPARE-SEA in Sylt, Germany.
Why we concentrate on oysters
While many aquatic/marine organisms can harbour antibiotic resistant bacteria (ARB), oysters are of particular interest since they often are consumed raw, or only slightly cooked, enabling the spread of ARB to humans, which is of special concern in the case of zoonotic pathogens. Since its kick-off in 2021, the project consortium has obtained results towards the objectives of its first two work packages and has new experiments underway for 2022.
A basic objective of WP1, to which subsequent results from SPARE-SEA will be compared, is the composition of ARGs in oyster metagenomes from four study sites: Sylt, Germany; the Ebro Delta, Spain; and the Brest and Thau Lagoons, France. DNA from oysters from each partner´s field was specifically enriched for AR target genes by our Italian partners. Mass sequencing of these AR markers revealed a large numbers of ARGs in the Ebro Delta, whereas hardly any were recovered from the pristine Sylt site, indicating that human activity might increase the presence of resistant bacteria in oyster seafood.
Whether antibiotic use in oyster aquaculture directly influences AR in oysters is currently being investigated at all sites with oysters reared at IFREMER under different antibiotic use regimes. In this way oysters from a common, known microbial and antibiotic background can be followed throughout short- and long-term exposure periods to gain insight into the transmission from autochthonous shellfish, and other marine organisms, to recently introduced oysters, providing information about the timing of bacterial colonization and potential gene flow of ARGs. Together with data from other field samples (water, sediment, etc…) a more complete picture of ARG presence, persistence, diversity and transmission will be obtained, which can be used to evaluate overall health risks.
November 30th is World Aquaculture Day, and at IRTA this is celebrated each year with an open house exhibition of their facilities. For World Aquaculture Day 2021, SPARE-SEA prepared a tryptic brochure, which was distributed to all visitors. Visitors participated in guided tours of the facilities, getting a glimpse of the work being done regarding aquaculture and also within SPARE-SEA.