Selected target CECs steer the technological process chain development
12 April 2022
The SERPIC project aims to develop a new electrochemical technology to treat urban wastewater so that compounds of emerging concern (CECs) are reduced to a level so that the water can be used for crop irrigation.
In the first seven months of the project's duration, the consortium selected six critical CECs, including one antibiotic-resitant bacteria and one antibiotic resistance gene that are relevant in the four case study regions of Italy, Spain, Portugal and South Africa. The relevance of the CECs was assessed via criteria concerning occurrence, persistance, bioaccumulation and toxicity. A paper on the methodology for this selection is under preparation.
In parallel, the technology partners are developing the different components of the process chain on a bench-scale level to optimise the degradation process for the six target CECs. At the second General Assembly Meeting, to be held on 09-10 May 2022, the project consortium will agree on the final main parameters of the prototype plant and will start to develop the separate prototype components.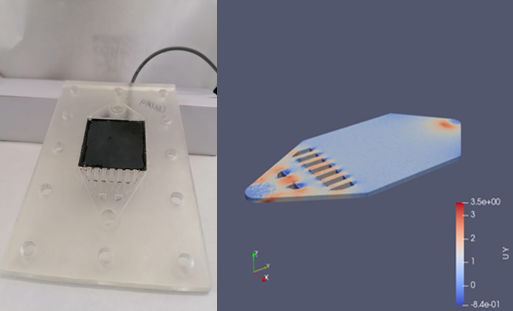 Left: A 3D printed Persulfate Reactor;
Right: Simulation of the flow velocity through the diamond electrode cell.