REWA partners are on their way
15 April 2022
About us
The main goal of the REWA project (Reduction and assessment of antimicrobial resistance and emerging pollutants in natural-based water treatment systems) is the strategic development and implementation of sustainable and cost-effective technologies for the removal of contaminants of emerging concern (CECs), metals, and pathogens, including antimicrobial-resistant bacteria and antibiotic resistance genes (ARGs) from water. The consortium consists of researchers from the Universities of Oulu in Finland, Copenhagen in Denmark, KwaZulu-Natal in South Africa and the MIGAL - Galilee Research Institute in Israel. The project is coordinated by Dr Tiina Leiviskä from the University of Oulu.
What we have done so far
To date, the project partners have had two Executive Board Meetings, and each partner has initiated their respective project tasks.
The University of Oulu collected upstream and downstream water samples around a steel manufacturing plant of interest in Tornio, Finland.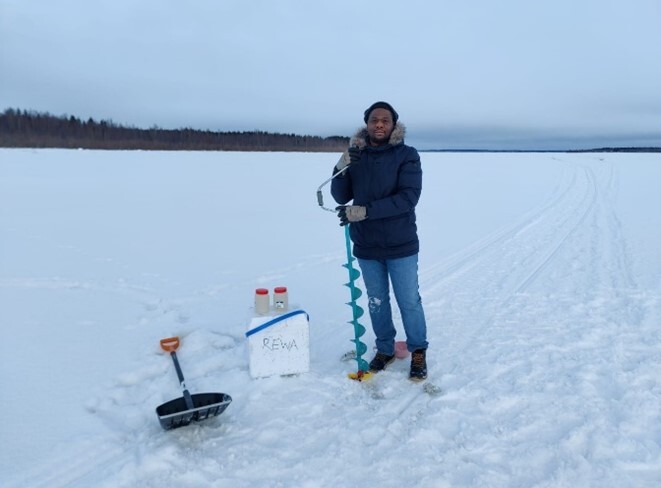 Sampling around a steel manufacturing plant in Tornio, Finland.
These water samples were sent to the University of Copenhagen in Denmark for preliminary experiments on developing a method platform using the genus Aeromonas to evaluate the water treatment technologies.
Also, two bio-sorbents were developed from Finnish biomass, and the adsorption of levofloxacin and trimethoprim antibiotics is currently being investigated. First, iron-modified peat was prepared from iron-rich sludge. Then, magnetite pine bark was produced from iron salts. The effect of initial pH, contact time, and initial concentration of antibiotics was studied for each of the bio-sorbents.

Testing bacterial growth media for selective cultivation and isolation of Aeromonas spp in Copenhagen, Denmark.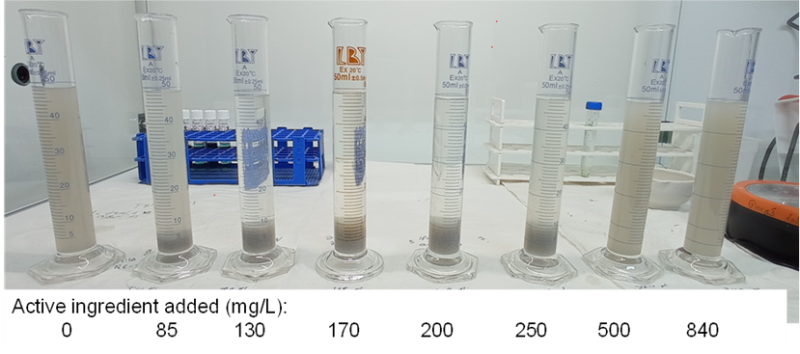 Efficient clarification of raw laundry effluents (left vessel) with suitable doses of clay-polymer nanocomposites. Overdosing leads to ineffective treatment, as can be observed at large doses (right two vessels).
The MIGAL/Tel Hai research group is working on several CEC removal and water reuse aspects. In one of their projects, they published on the photocatalyzed degradation of ofloxacin (https://doi.org/10.3390/catal12010024). They described a relatively simple method for determining the pseudo-order of pollutant removal processes based on a series of measured data points using the Solver tool in Excel® software.
Another one of their projects deals with the reuse of water from laundry machines and establishments. Despite the environmental importance of generally reducing water use, such treatments could be crucial in closed systems and places such as ships or places not connected to sewage facilities. The figure on the left depicts a very efficient clarification of raw laundry water, based on the addition of very low doses of a clay-polymer nanocomposite developed by the research group.
The group at the University of KwaZulu-Natal is investigating the use of carbon-based nanomaterials in a two-pronged approach. For the first, they are studying the utilisation of nanocomposites fabricated from carbon-based nanomaterials and biochar for the adsorption of CECs, while in the second, they are combining semiconductors with the carbon-based materials to prepare visible-light-driven photocatalysts to degrade CECs. Two biochar samples were sourced from a local self-empowerment project. They are currently being prepared, characterised and fabricated into nanocomposites for biosorption studies. A number of binary and ternary photocatalysts based on graphitic carbon nitride and tin vanadate have been synthesised and tested for the degradation of dyes and CECs.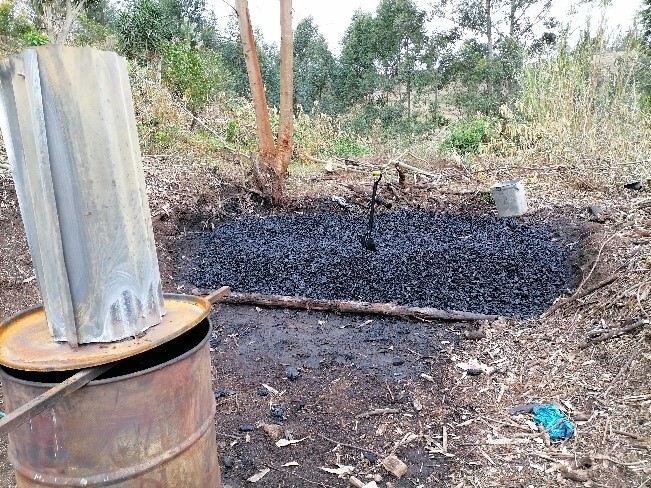 Biochar production in Durban, South Africa from waste pallets.