Nature-based solutions to reduce antobiotics, pathogens and antimicrobial resistance in aquatic ecosystems
9 March, 2023
Antibiotics have been found in 2/3 of the world's rivers and experts expect a 65% increase of drug concentration in water by 2050. Once in the environment, antibiotics can promote antimicrobial resistance in waterways. This creates resistant microbial strains, which have the potential to affect ecosystems and human health. Antimicrobial resistance (AMR) is already responsible for an estimated 33,000 deaths per year in the EU and costs €1.5 billion per year in healthcare costs and productivity losses. The NATURE project aims to demonstrate the use of nature-based solutions (NBS) as management option for reducing the presence of antibiotics, AMR and pathogens on the river catchment scale, from wastewater treatment to the estuary. According to EU, NBS are defined as solutions that are inspired and supported by nature, which are cost-effective and simultaneously provide environmental, social and economic benefits and help build resilience.
Our results show the presence of several antibiotics and AMRs in wastewater samples. Trimethoprim was the most abundant antibiotic in the raw wastewater from Denmark, whereas in the case of the Spanish sites, clindamycin and azithromycin were the most abundant compounds in secondary treated wastewater effluents (ranging from few to hudreds of ng/L). The main results achieved so far demonstrate that the use of NBS as secondary or tertiary wastewater treatments results in a greater removal of antibiotics than conventional wastewater treatment solutions. For example, the average removal of identified antibiotics and AMR in conventional tertiary wastewater treatment was of 40% and 1.5 log units, whereas these removals increased up to 70-80% and 2-3 log units by using NBS, respectively.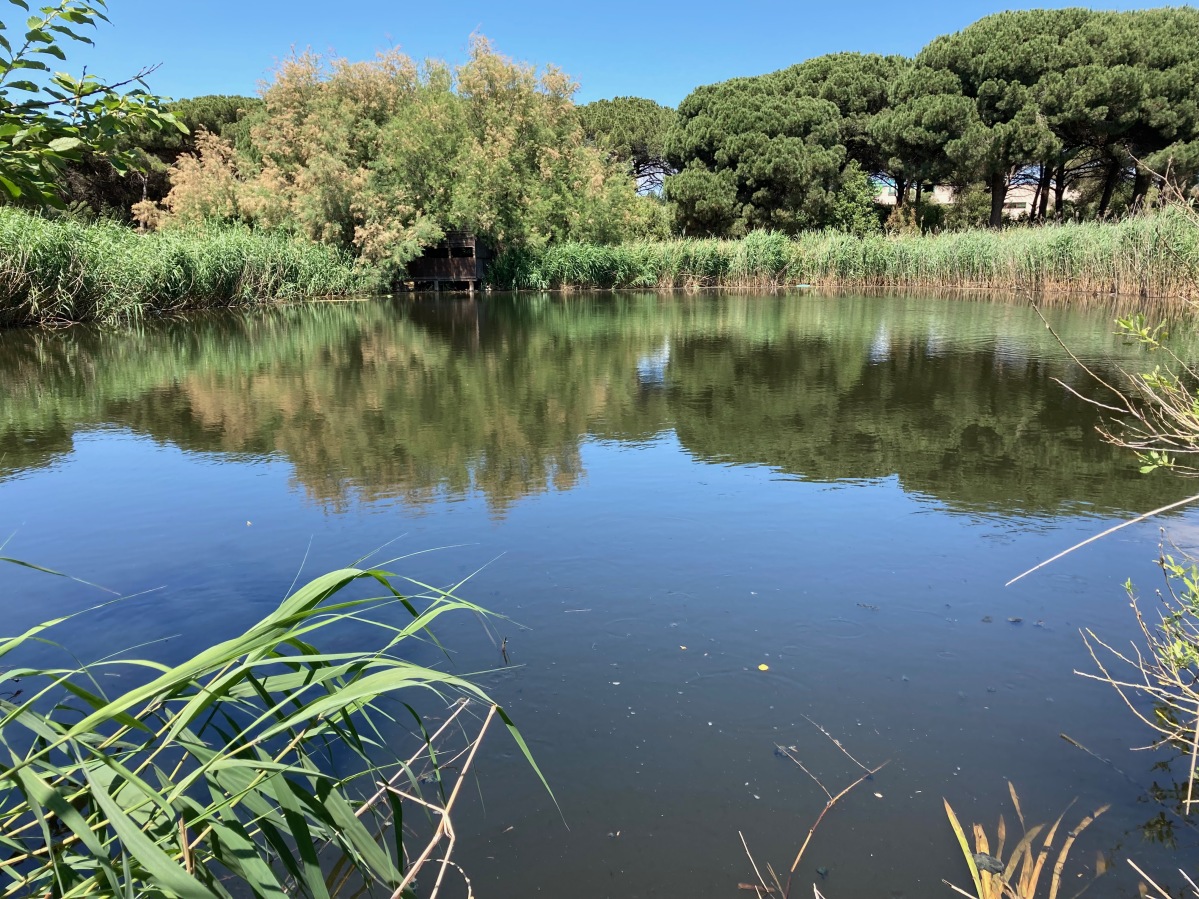 Nature based solution used as tertiary treatment for the production of reclaimed water for agriculture and ecosystem recovery. The NBS is completely integrated in the land-scale and used for birdwatching (Photo credit: V. Matamoros, Spain).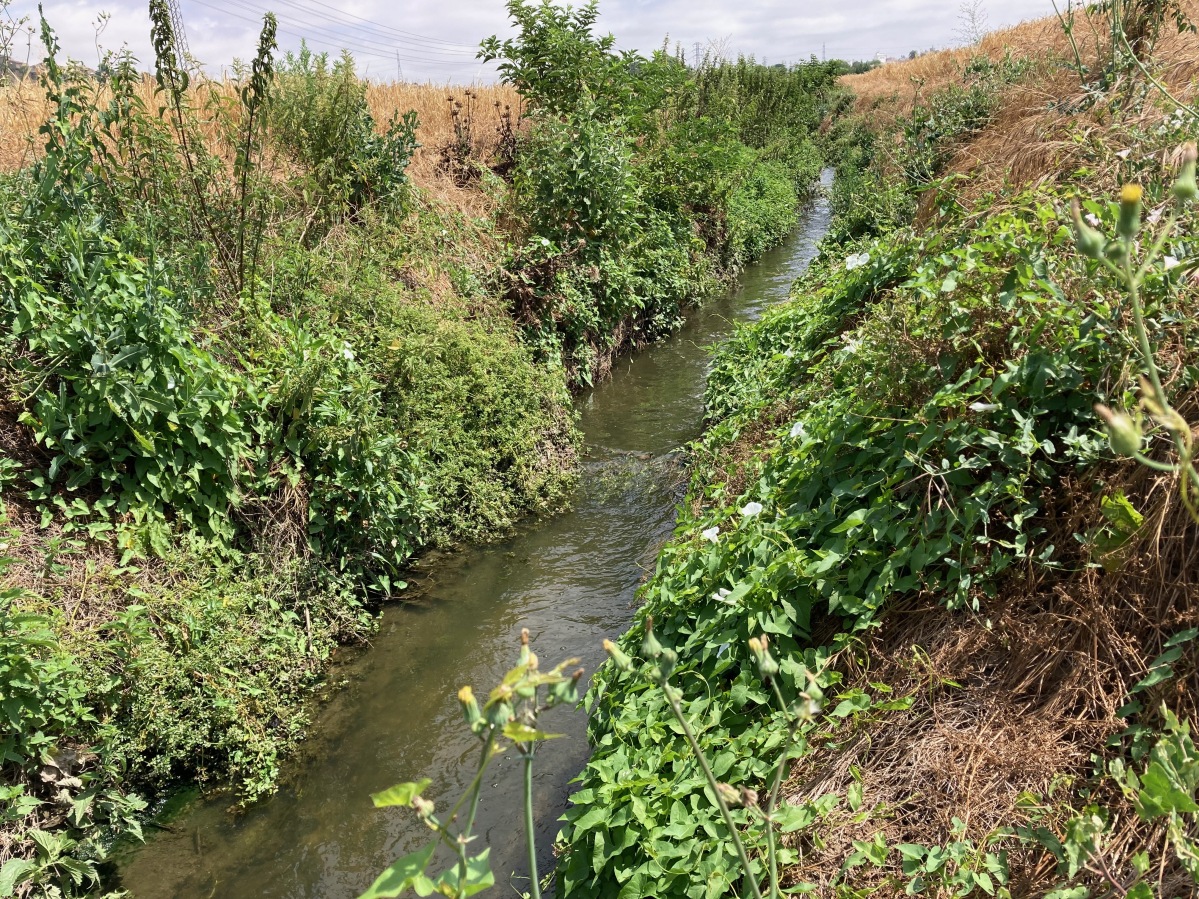 Wastewater-dominated stream in Spain; secondary-treated wastewater is polished as it flows through the stream. The picture shows the presence of vegetation, which helps to enhance antibiotic and AMR removal, increasing chemical and ecological status of our Mediterranean river streams (Photo credit: V. Matamoros, Spain).
Similarly, the renaturalization of river streams has been observed to enhance the attenuation of antibiotics by 30-40%. Several micropollutants have been detected in the water of a Portuguese river estuary, all at low amounts. However, the most abundant compounds were anti-inflammatory and analgesic compounds, detected at a concentration lower than 5 ng/L, except for trimethoprim which was detected up to 100 ng/L. The potential of the estuarine saltmarsh to remove these pollutants is being evaluated. Results from Mali indicate that hospital wastewater effluents discharging into the Niger river are a very important source of antibiotics, reaching concentration levels greater than 30,000 ng/L (ciprofloxacin and acetyl-sulfamethoxazole). Therefore, we expect that the implementation of NBS in these sites would aid to reduce the impact of antibiotics and AMR into the Niger river.
We expect that our final results will be useful for stakeholders involved in decision making to implement the use of NBS in water ecosystems, from wastewater treatment to river estuaries. The implementation of NBS will help to reduce the economic and energy costs associated with the current effective wastewater treatment technologies (e.g. advanced oxidation or membrane based approaches), and, at the same time, promote environmental benefits.