AMROCE's first steps towards the reduction of AMR in water bodies
13 April 2022
AMROCE's first steps towards the reduction of antimicrobial resistance in water bodies: from identification of novel marine-derived actives with high antimicrobial efficacy to bulk and surface nano-engineering of fishing nets
The AMROCE project aims at developing novel antibiotic-free antimicrobial strategies to improve animal and fish living conditions, reducing the use of antibiotics, the accumulation of contaminants of emerging concern (CECs) in the environment and the emergence of antimicrobial resistance (AMR).
These strategies include:
nano-formulation of antibiofilm enzymes and marine-derived antimicrobial lipids and antimicrobial proteins for fish and animal feed,
bulk engineering of antimicrobial and antibiofilm fish cage nets (FCN) and water filtration membranes (WFM) from thermoplastic polymers blended with antimicrobial metal oxide nanoparticles (MeO NPs)
surface nano-engineering of FCN and WFM using NP-based antimicrobial and antibiofilm coatings
In line with the main objective of AMROCE of developing a platform of novel antibiotic-free antimicrobial products, different biomass fractions from marine sources, including salmon fish, gammarides, jellyfish and seaweeds, were isolated by SINTEF Oceans (Norway) and subjected to antimicrobial evaluation against common animal and fish pathogens. The jellyfish-derived actives were identified by Universitat Politècnica de Catalunya (Spain) as the most promising bio-based antimicrobials, which will be further nano-formulated with anti-infective and anti-biofilm enzymes for animal and fish feed supplements.
AMROCE has also initiated the production of novel nano-enabled thermoplastic composites with antimicrobial and anti-fouling properties for FCN. The VTT Technical Research Centre of Finland blended thermoplastic polymers with antimicrobial MeO NPs using a twin-screw extruder to obtain bulk-engineered nanocomposite fibres for the nets (see picture on right).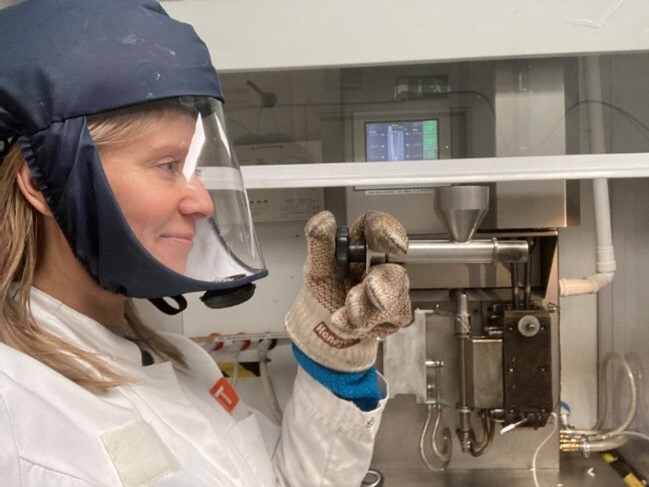 Blending thermoplastic polymers with antibacterial MeO NPs using twin-screw extruder.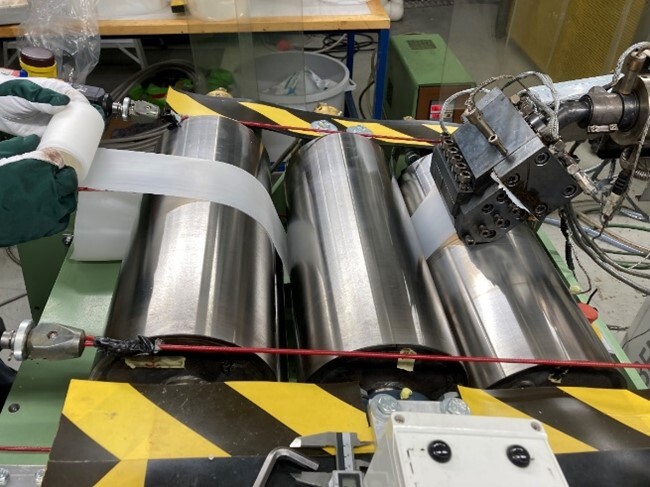 Cast film processing at the Polymer Pilot at VTT.
Additionally, polyamide, polyethylene, and polyethylene-based compounds were processed into thick cast films for surface nano-engineering of WFM and FCN. The FCN were also coated with novel MeO NPs at the Bar-Ilan University (Israel) using a single step sonochemical technology, which is able to simultaneously generate and deposit the antimicrobial NPs on the surface of the FCN without any additional pre- or post-treatment. The antimicrobial efficiency of the sonochemically coated FCN was evaluated in marine simulated environment (see picture on left).
Considering the importance of developing safe nano-enabled products, aquatic toxicology assessments of the MeO NPs are currently performed at University of Milano-Bicocca (Italy) using Fish Embryo Acute Toxicity test on a zebrafish model organism, according to OECD TG.236/2013 guidelines. The nano-toxicological data will further contribute to the Life Cycle Assessment studies for monitoring the environmental impacts of AMROCE nano-enabled products and technologies (Project SAS, Italy).
Communication and dissemination activities
Various activities to maximise the impact of AMROCE results in the public domain have started.
The AMROCE website was established, where information about public events, publications and press releases are regularly updated (https://amroce.eu/). Project information and updates are also disseminated through the official web pages of the AMROCE partners (e.g. https://www.sintef.no/en/projects/2021/amroce-nanoenabled-strategies-to-reduce-the-presence-of-contaminants-of-emerging-concern-in-aquatic-environment/, https://gbmi.upc.edu/en/Projects/copy_of_ApB-projects). Instagram and Twitter accounts (AMROCE_project) were created to establish and maintain public engagement with the project and are regularly updated with new events. A mapping of relevant stakeholders throughout Europe was also performed. The identified stakeholders were divided into categories in order to target the right audience with the right dissemination and/or communication activity and message. AMROCE has also been presented at several international scientific events (e.g. Pacifichem (USA) and 7th Nano Today (China)).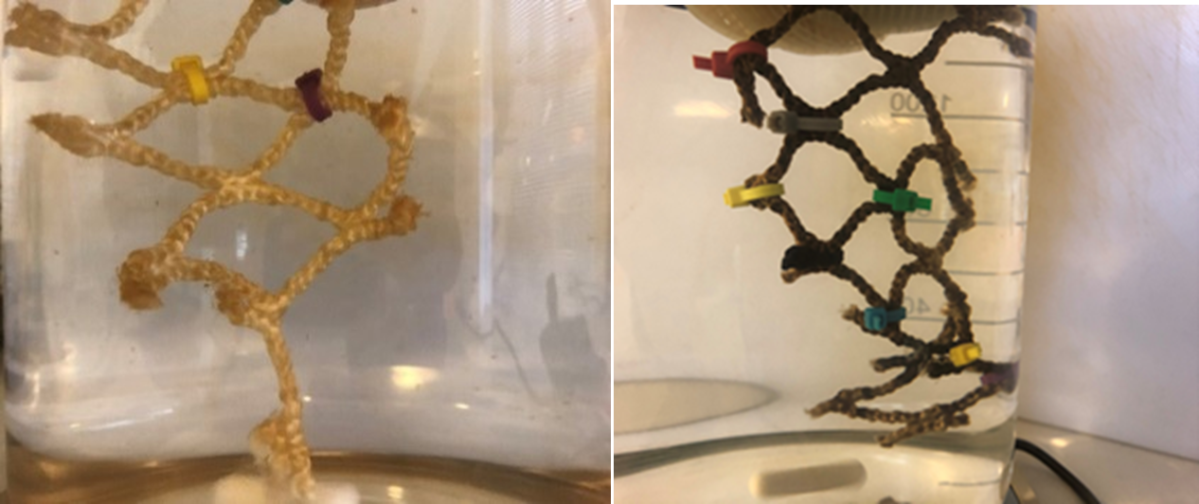 Pristine (left) and MeO NPs (right) coated fishing nets.